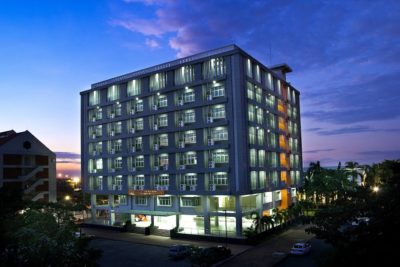 College of Advanced Manufacturing Innovation (AMI) is a college of King Mongkut's Institute of Technology Ladkrabang, KMITL, Bangkok Thailand. The College started out as the special Research Center in the collaboration of KMITL and the National Science and Technology Development Agency, NSTDA, in 2006 as Data Storage Technology and Applications Research Center, DSTAR. The main mission was to support hard disk industries in Thailand in various aspects including production technology, productivity improvement and human resources. The center was to promote technology transfer to industries and academics both nationally and internationally.
In 2008, the research center then has formed a graduate curriculum to serve the mission of strengthening human resources in the field by the collaboration among the research center and hard disk industries. The curriculum was therefore designed to match the industrial needs, the advanced manufacturing technology knowledge. The research center then changed the name to College of Data Storage Technology and Applications and had her first student batch in 2008. In 2010, the College has changed her name to College of Data Storage Innovation but still kept her abbreviation as DSTAR until March 2016 when the name was then changed to College of Advanced Manufacturing Innovation.
Advanced manufacturing is the key manufacturing concept today. Due to the high labor costs, the revolution of manufacturing is catching on during this decade. Automation system, artificial intelligent, advanced material, advanced manufacturing process are all needed integration of engineering and scientific knowledge to make manufacturing be more production efficient and cost-effective. Our college trains students to be familiar with advanced manufacturing so they can adapt their skills in every situation.
Manufacturing is one of Thailand prominent incomes which comes from electronic and electrical industry sectors in the past decode. It is accounted for more than two billion dollars on an average every year which is about 30% of the total private sector investment in Thailand. In term of employment, these industries utilize human resources for more than 400,000 workers or 14% of the total employment. Highly competent in human resource skills, Thailand enjoys being one of the best manufacturing bases in ASEAN. To keep the edges, AMI offers students developing their expertise in advanced manufacturing system. With our excellent research and closed collaboration with industries, we are confident in our students are graduating to be leaders in the industries. We have strong relation with industries in research partnerships. Students have many opportunities to have hand-on experience working with real-world problems to enhance their knowledge and skills. Our novel laboratory equipment also help students getting familiar with industrial instruments. Working with our strong faculties, students have easier transition from college to professional life.

As an industrial oriented college, our research mission is to be one of the sought after centers in ASEAN for advanced manufacturing research and development. The ultimate aim is to improve competitiveness of Thai industries, in terms of both human resources and technology development. Our teaching mission is to develop and educate engineers to have high level skill and expertise in advanced manufacturing system engineering. Our undergraduate program is multidisciplinary including rigorous foundation coursework and hand-on industrial research experience. Our graduate program is intensively industrial funding project base from varieties of industrial sectors such as hard disk industry, automotive industries, food industries, electronics industries. Students can learn and develop their skill to meet the challenge of the industrial technological needs.